Verrijk uw i2 omgeving met de System Development Kit (SDK) van i2 Notebook WebClient
De System Development Kit van i2 Notebook WebClient maakt onderdeel uit van de i2 Analyst's Notebook Premium oplossing. Premium combineert de kracht van i2 visualisatie en analyse functionaliteiten met de mogelijkheid om direct connectie te maken met interne en externe databronnen. Hierdoor hoeft u niet meer de data eerst te importeren en daarna te doorzoeken; u kunt direct in de databron zoeken. Daarnaast biedt Premium de mogelijkheid om uw i2 omgeving te verrijken met nieuwe i2 functionaliteiten, die met behulp van de SDK gebouwd kunnen worden.
i2 Notebook WebClient
i2 Notebook WebClient biedt u de mogelijkheid om op een eenvoudige wijze de data in de reeds doorzochte bronnen te verkennen en snel de relevante data te ontdekken via een web-based applicatie.
In i2 Notebook WebClient kunt u gebruikmaken van enkele basisfunctionaliteiten uit i2 Analyst's Notebook. Denk hierbij aan de Record Inspector om individuele recorddetails te bekijken en standaard visualisatie lay-outs zoals Peacock, Grouped en Packed met daarbij de mogelijkheid om een chart te wijzigen of te bewerken. De huidige set van functionaliteiten zal de komende versies verder uitgebreid worden.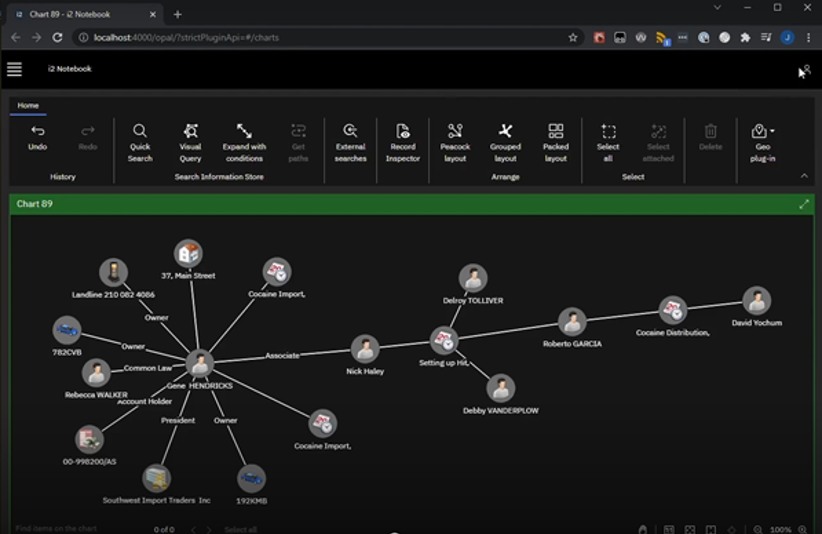 System Development Kit (SDK)
Naast de reeds aanwezige functionaliteiten in i2 Notebook WebClient is het ook mogelijk om met behulp van de aanwezige System Development Kit nieuwe visualisaties en functionaliteiten zelf te bouwen. Via de SDK kunt u bijvoorbeeld geospatiale visualisaties, dashboarding, een totaal eigen grafische interface, plug-ins en geavanceerde data analytics functionaliteiten bouwen.
Wilt u meer informatie over i2 Notebook WebClient en de System Development Kit? Bekijk onderstaande video of ga naar de i2 Group GitHub database door hier te klikken.
Wilt u weten wat de toegevoegde waarde van i2 Analyst's Notebook Premium, i2 Notebook WebClient en SDK voor u kan zijn, neem dan contact met ons op.