i2 Tip & Tricks: Find Path in iBase vanuit Analyst's Notebook
Wilt u weten of twee entiteiten in uw database een mogelijke connectie met elkaar hebben? Dat kan vanuit i2 Analyst's Notebook. Hier kunt u onderzoeken of er een pad bestaat tussen twee entiteiten in uw database in i2 iBase en zo tot nieuwe inzichten komen in uw onderzoek. Dit doet u met de 'Find Path' functionaliteit. 'Find Path' kan tot 10 entiteiten diep zoeken naar een mogelijke verbinding. Deze zoekslag is niet mogelijk met het maken van een query. In dit artikel omschrijven we stapsgewijs hoe u deze functionaliteit gebruikt.
Uitleg met voorbeeld
Stel, u wilt weten of er een connectie bestaat tussen de organisatie DLD en de persoon HALLYDAY in uw database. Eerst zoekt u met behulp van 'Find' deze twee entiteiten in i2 iBase en visualiseert ze in een i2 Analyst's Notebook schema.
Daarna drukt u op uw rechtermuisknop in i2 Analyst's Notebook en selecteert u de naam van de database in het contextmenu (in dit voorbeeld CRIMENL_01). Dan drukt  u op de optie 'Charting Settings' zoals in de afbeelding hieronder is weergegeven.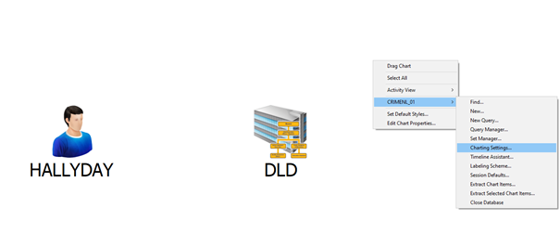 Het 'Charting Settings' scherm wordt geopend en onder het kopje 'Find path' stelt u de maximale zoekdiepte in (10) zodat alle verbindingen met maximaal 10 entiteiten ertussen gevonden worden. Ook dient de optie 'Shortest path' aangevinkt te worden. Op deze manier worden de sterkste verbindingen (dus met de minste tussenkomst van entiteiten) weergegeven. Druk op 'OK'.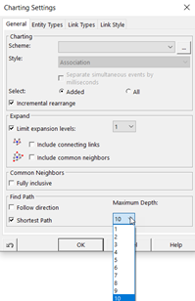 Selecteer nu beide entiteiten, klik met de rechtermuisknop in de selectie en klik op de naam van de database (in dit voorbeeld CRIMENL_01). Klik vervolgens op 'Find Path'.
Onderstaand resultaat verschijnt: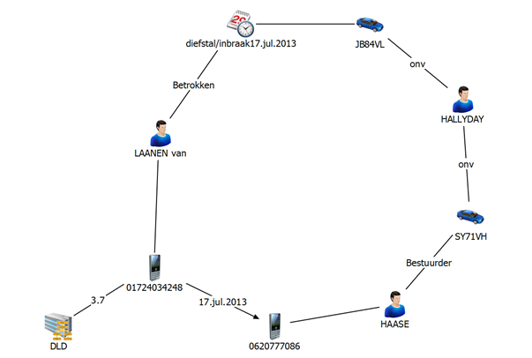 In deze case blijken twee paden van dezelfde diepte (4 entiteiten) tussen HALLYDAY en DLD te zijn. 
HALLYDAY heeft twee voertuigen op zijn naam staan. Eén van de voertuigen is betrokken geweest bij een inbraak waar ook van LAANEN bij betrokken was. Van LAANEN gebruikt een telefoon van het bedrijf DLD.
Het tweede voertuig werd bestuurd door HAASE. Deze werd gebeld door de telefoon van DLD en dus mogelijk door van LAANEN.