Mercure - Werken met onbekende waardes & communicaties
Mercure wordt gebruikt voor telecomonderzoeken en forensische analyses. Duizenden analisten wereldwijd besparen inmiddels veel tijd met behulp van de gebruikersvriendelijke interface en de uitgebreide functionaliteit van Mercure. In dit artikel duiken we in 'the unknown'. We lichten hieronder toe hoe u tijdens het importeren van gegevens in Mercure onbekende waardes en onbekende communicaties kunt omzetten naar correcte en door Mercure herkende informatie.
Importeren: onbekende waardes
Tijdens een import in Mercure, kan het gebeuren dat Mercure bepaalde waarden niet herkent. De waardes die niet worden herkend (unknown values), worden in het import tabel rood weergegeven.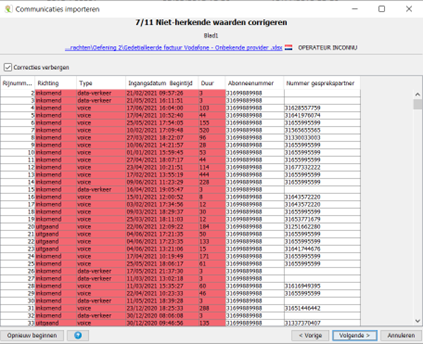 Door op de rode cel te dubbelklikken, wordt de zogenoemde 'value fixer' geopend. Vervolgens wordt automatisch een lijst met mogelijke correcties aangeboden zodat Mercure de onbekende waarde wel kan herkennen. Na de juiste correctie te selecteren, worden alle waarden met dezelfde fout in één keer gecorrigeerd.
De gecorrigeerde waarden zijn in eerste instantie niet zichtbaar in het import tabel. Wilt u de gecorrigeerde waarden wel bekijken, dan kunt u dit doen door het vinkje in de 'hide fixed values' vakje uit te vinken. Na het uitvinken ziet u de gecorrigeerde waarden in een groene kleur in het tabel verschijnen.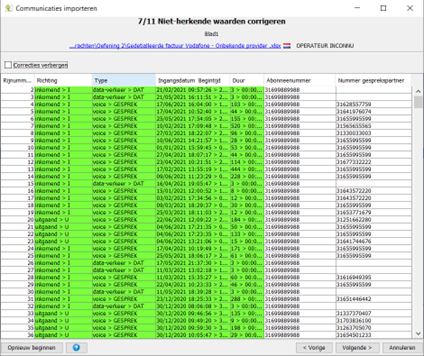 Wilt u alle correcties ongedaan maken of wilt u een default waarde toepassen op een gehele kolom? Dan kunt u gebruikmaken van het aanwezige pop-up menu.
Voordat u verder kunt gaan met het importeren van de data in de database, dienen alle onbekende waarden gecorrigeerd te zijn. Indien u dit niet doet, zullen rijen met ongecorrigeerde waarden niet worden geïmporteerd en zal uw onderzoeksdata niet compleet zijn.
Importeren: onbekende communicaties
De laatste stap in het importproces en het opslaan van de database, is het valideren van communicaties. Alleen geldige en niet-herkende communicaties worden opgeslagen in een database. Alle communicaties die niet gecorrigeerd worden in deze stap worden genegeerd en daardoor automatisch verwijderd.
Niet herkende communicaties ('unknown communications') zijn vaak een weerspiegeling van problemen in de geïmporteerd data en kunnen analysefouten veroorzaken. Het is dan ook belangrijk dat u controleert of u het item type en zijn doel correct heeft gedefinieerd.

Om de details van de communicaties te bekijken, kunt u dubbelklikken op een rij in de tabel. In het 'item detail' scherm, kunt u dubbelklikken op een communicatie en bekijken:
wat de originele waardes en geïmporteerde waardes zijn.
wat de toegepaste transformatieregel is.
wat de oorzaak is van de afwijzing van de geneerde communicatie.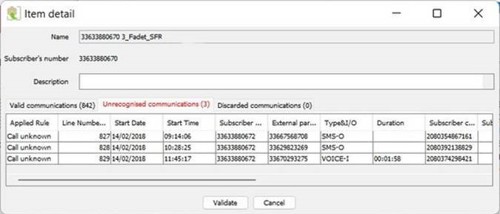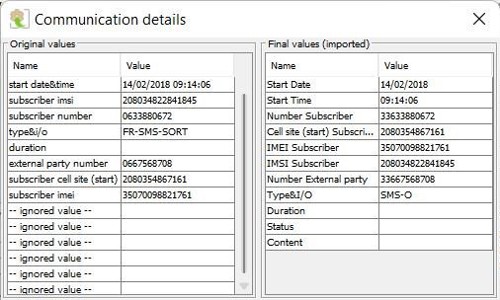 Heeft u eenmaal de niet herkende communicaties gecorrigeerd, kunt u starten met het filteren, bevragen, analyseren en visualiseren van uw data.
Blijf up-to-date
Om zo optimaal mogelijk gebruik te kunnen maken van Mercure, raden we u aan regelmatig de software patches en updates uit te voeren. Mercure brengt één keer in de drie maanden een nieuwe versie en elke week twee patches uit. U kunt deze updates vinden door te gaan naar 'Help' en op 'About Mercure' te klikken. Vervolgens kunt u klikken op 'check for updates'. U wordt naar een internet pagina geleid waar u kunt zien wat de gebruikte software versie is, wat de meest recente versie is en welke patches er beschikbaar zijn.
Zijn er patches beschikbaar? Zorg dan dat u of uw Mercure administrator in uw Mercure account inlogt om vervolgens:
de format patch file (.mfp extentie) te downloaden.
Mercure op te starten en in te loggen met de admin login.
in het file menu te klikken op 'update formats'.
in het update scherm de .mfp file te selecteren en de update toe te passen.
Contact
Heeft u vragen naar aanleiding van de hierboven omschreven tips & tricks of heeft u hulp nodig bij het uitvoeren van een software update of patch? Neem dan contact met ons op.