Mercure Tips & Tricks: TEC-communicatie 
Mercure is uitermate geschikt voor het analyseren van onder andere telecomgegevens, locatiegegevens en kentekenplaatgegevens. Tijdens het uitvoeren van telecomanalyses in Mercure kan het voorkomen dat u een communicatietype van de categorie 'TEC' tegenkomt. In dit artikel leest u wat dit communicatietype inhoudt en u hoe u ermee kunt omgaan.
Communicatietypes
Bij het importen van belgegevens van een persoon of bij het importeren van mast-dumps, worden de verschillende type communicaties omgezet naar communicatietypes die binnen Mercure bekend zijn. Het converteren van deze communicatietypes is vastgesteld in de importspecificaties die ontwikkeld zijn per provider. In de meeste gevallen zijn de type communicaties die worden gehanteerd door de verschillende providers te classificeren als een gesprek, SMS, dataverkeer of een voicemail. Dataverkeer wordt bijvoorbeeld tijdens de import geconverteerd naar DAT en voicemail naar VMAIL.
Wanneer Mercure een communicatieregel uit het overzicht van de provider niet kan classificeren als een type wat binnen Mercure bekend is, dan zal deze aangeduid worden als TEC (wat staat voor Technische Communicatie). Mercure zal zelf geen 'gok' doen onder welk communicatietype de regel kan vallen en daarom is er een algemeen communicatietype opgesteld.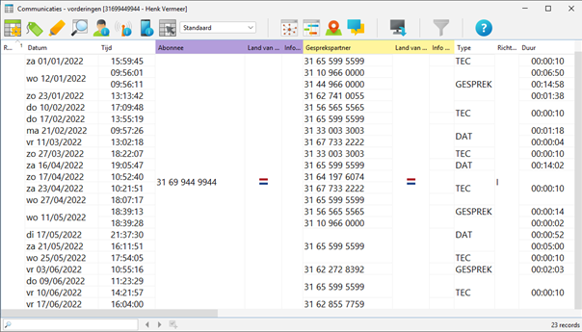 TEC
Voor het uitvoeren van een volledige analyse is het van belang om te achterhalen welke communicatie is geclassificeerd als TEC. U heeft de mogelijkheid om te achterhalen wat de originele waarde in het exportbestand van de provider is geweest. Hiervoor kunt u de audit functie in Mercure gebruiken. U gaat als volgt te werk:
1. Open de vordering.
2. Splits de cellen wanneer deze samengevoegd zijn, zoals in bovenstaand voorbeeld (icoontje links bovenin).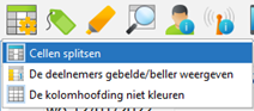 3. Ga naar de communicatieregel waar TEC staat en klik met de rechtermuisknop hierop.
4. Ga naar de optie "Audit van communicatie".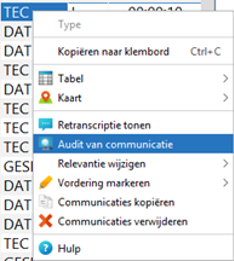 5. In het overzicht wat u krijgt, kunt u meer informatie over de communicatieregel terugvinden.
In onderstaand voorbeeld blijkt dat de originele waarde is aangeduid als 'roaming oproepen doorgeschakeld'.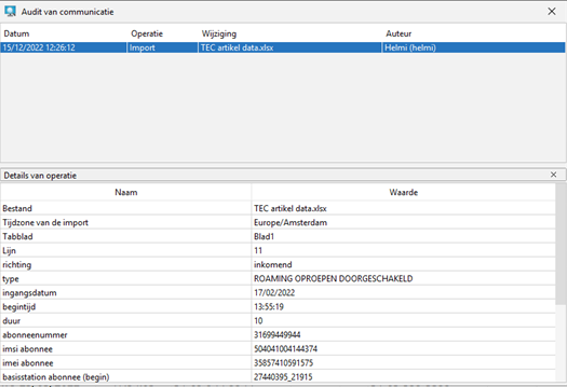 Wanneer de informatie die is opgevraagd vanuit het audit venster binnen Mercure niet voldoende inzicht geeft in wat het communicatietype precies inhoud, dan is het te adviseren om meer informatie op te vragen bij de betreffende provider.
Neem contact met ons op
Blijkt nu dat een type communicatie geclassificeerd kan worden onder een reeds bestaand communicatietype of wenst u dat er een nieuw type aangemaakt wordt, neem dan contact op met onze supportafdeling.