i2 Tips & Tricks: Multiplicity of Connection voor financiële analyse
Stel, u heeft een grote hoeveelheid financiële data vanuit i2 iBase gevisualiseerd in i2 Analyst's Notebook en u krijgt een schema zoals hieronder. Het schema toont een grote hoeveelheid transacties. Een prachtige chart, echter door de grote hoeveelheid transacties is door de bomen het bos niet meer te zien. Dit terwijl u juist door visualisatie inzicht wilt krijgen in de relaties tussen entiteiten.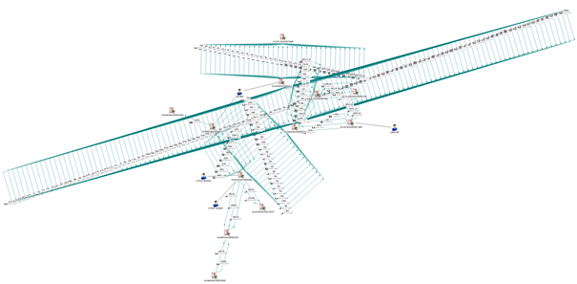 i2 Analyst's Notebook biedt een eenvoudig in te stellen functionaliteit waardoor u wel in één oogopslag opvallende relaties tussen entiteiten kunt weergeven. Een overzichtelijker schema verkrijgt u met behulp van de juiste instellingen bij 'Multiplicity of Connections'. In dit artikel lichten we toe hoe u dit instelt en zo eenvoudig antwoord kunt geven op vragen als:
Wie heeft naar wie geld overgeboekt?
Hoe vaak heeft er een transactie plaatsgevonden?
Wat was het totaalbedrag dat is overgemaakt?
Stapsgewijze uitleg
Ga in i2 Analyst's Notebook naar het menu 'Home', klik op 'Connect' en kies voor optie 'Data Sources Pane'.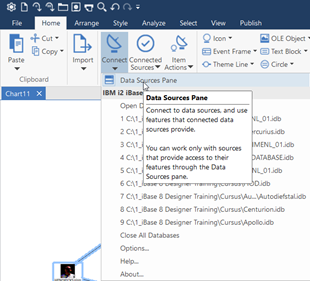 Aan de rechterkant ziet u het onderstaande venster verschijnen.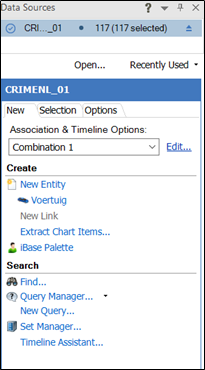 Onder het kopje 'Association & Timeline Options:' staat 'Combination 1' en rechts daarvan staat de optie 'Edit….'. Klik op 'Edit….' en het onderstaande scherm opent. Hierin legt u vast hoe u de geopende database (in dit voorbeeld CRIMNL.idb) wilt visualiseren.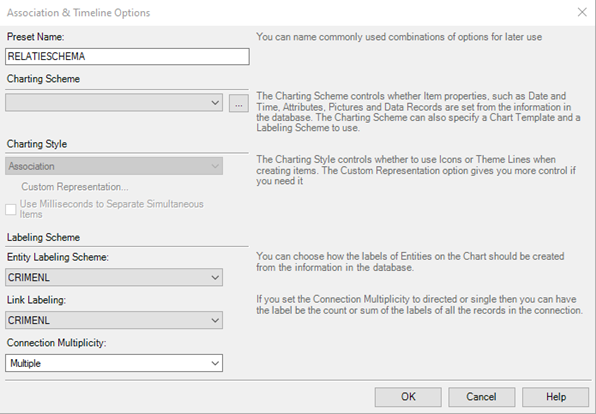 Onder 'Link Labeling' kiest u voor de optie 'Occurrences' als u het aantal transacties op de koppelingen wilt weergeven. Wilt u totaalbedragen tonen in uw schema, dan kiest u voor de 'Sum Numeric' mogelijkheid.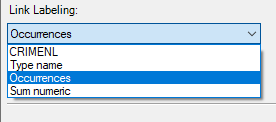 Bij de optie 'Connection Multiplicity' kiest u voor 'Directed' als u slechts twee koppelingen wilt gebruiken die de richting van de transacties aangeven en 'Multiple' als u álle transacties wilt weergeven.

In dit voorbeeld kiezen we de lay-out instellingen 'Occurences' en Directed'. Klik vervolgens in het scherm op 'OK'.  Visualiseer uw query opnieuw in i2 Analyst's Notebook en kies voor de 'Compact Peacock' lay-out en een 'Seperation' van 2 cm. Hieronder ziet u dezelfde data uit  i2 iBase zoals in het begin van dit artikel weergegeven, maar dan met de gewijzigde instellingen.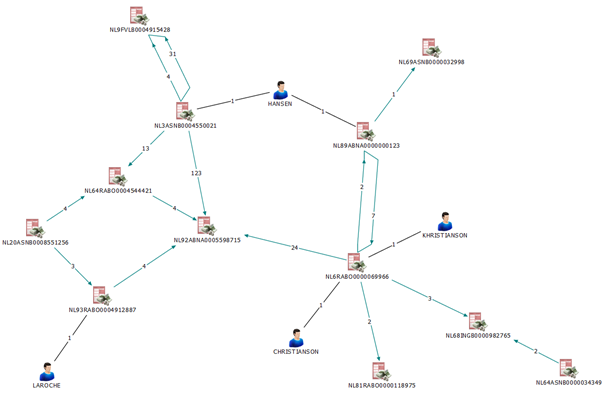 Bent u benieuwd welke i2 Analyst's Notebook functionaliteiten u verder kunt inzetten om meer resultaten te halen uit en sneller inzicht te krijgen in uw onderzoek? Volg dan zeker onze i2 trainingen! Tijdens de i2 Analyst's Notebook en i2 iBase trainingen leert u hoe u meer bruikbare intelligence uit uw data kunt halen met behulp van vele analyse- en visualisatiefunctionaliteiten. Neem voor meer informatie contact met ons op of ga naar het trainingsoverzicht.