i2 tip: Een i2 iBase query met variabele invoer
In analyses komt het voor dat u een query vaker wilt gebruiken om uw gegevens te doorzoeken en te bevragen, maar dat deze elke keer net iets anders moet zijn. Denk hierbij bijvoorbeeld aan de datum of de naam van een persoon of organisatie. Het kan tijdrovend zijn om elke keer de query opnieuw in te voeren. i2 iBase biedt twee verschillende opties waardoor dit niet hoeft en u uw analyses eenvoudiger en met minder handelingen kunt uitvoeren.
Een query die vraagt om invoer
De eerste manier om een query te creëren met een variabele invoer in i2 iBase is door in uw query in plaats van een waarde een "@" op te nemen. Als u dat doet dan zal i2 iBase bij het uitvoeren van de query vragen om gegevens in te voeren voor het opgegeven veld.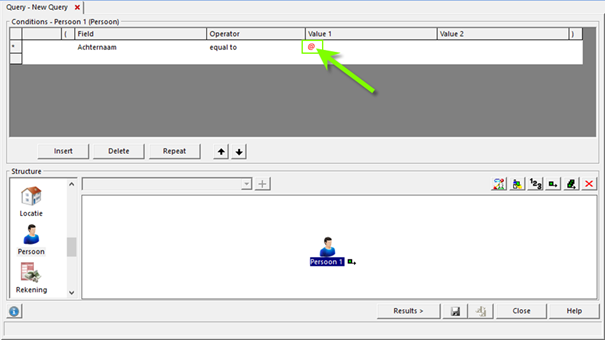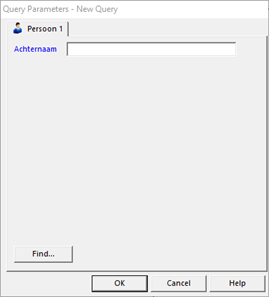 Het is mogelijk om niet één keer maar meerdere keren een "@" te gebruiken in een query. In onderstaande voorbeeld worden voor twee entiteiten en één koppeling gegevens opgevraagd. Let wel op, wanneer u tweemaal dezelfde entiteit heeft gebruikt kan dit voor verwarring zorgen. Hoort persoon 1 of persoon 2 nou bij die specifieke achternaam en geboortedatum?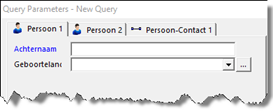 Een andere optie is om alvast een waarde voor te stellen. Dit doet u door deze achter de "@" te typen. Dit kan een waarde zijn die u veel gebruikt, maar zou de gebruiker ook kunnen helpen te bepalen wat hij/zij moet invullen. Deze suggestie kunt u aanpassen wanneer er gevraagd wordt om een waarde in te vullen.


Een query die kijkt naar bepaalde systeem variabelen
De tweede manier om een query met variabele invoer te maken, is door een query te maken die kijkt naar bepaalde systeem variabelen. Er zijn enkele systeem variabelen beschikbaar die u kunt gebruiken in i2 iBase. Ze beginnen allemaal met "@#" en dan de naam van de parameter in hoofdletters. Hieronder vindt u de mogelijkheden.
| | |
| --- | --- |
| Parameter | Beschrijving |
| @#USER | De gebruikersnaam van de persoon die is ingelogd in iBase. |
| @#NOWDATE | De huidige datum |
| @#NOWDATE +N/-N | De huidige datum + of – een aantal dagen |
| @#NOWTIME | De huidige tijd |
| @#NOWTIME +N/-N | De huidige tijd + of – een aantal uren |
In het onderstaande voorbeeld hebben we bij Value 1 de systeem variabele @#NOWDATE-30 ingevoerd. Zo kunt u opvragen welke records in de afgelopen 30 dagen zijn gewijzigd. (Wijzig datum is van het veldtype "Update date & Time").

Wilt u weten welke mogelijkheden i2 iBase u nog meer biedt? Volg dan één van onze trainingen of neem contact met ons op.