Nieuwe Twitter module voor Social Network Harvester!
De nieuwe versie van Social Network Harvester (SNH) van Freezingdata wordt binnenkort gereleased. Eén van de belangrijkste veranderingen in versie 1.22 is de nieuwe Twitter module. De module heeft een volledig nieuw intuïtief design en brengt handige nieuwe functionaliteiten voor u en uw SOCMINT-onderzoek met zich mee. 
De nieuwe Twitter module voorziet u van nieuwe functionaliteiten op de volgende gebieden:
Tijdlijn analyses
Retweets & quotes
Threads (gesprekken)
Media
Volgers en Volgend
Analytics
In dit artikel lichten we de belangrijkste nieuwe functionaliteiten toe.  
Back-up van tijdlijn
Naast de tweets op de tijdlijn, maakt Social Network Harvester vanaf nu ook een back-up van de tweets die als reply op andere tweets worden gegeven. Op deze manier minimaliseert u het risico om waardevolle data te verliezen.  
Opslaan van retweets en quotes
De nieuwe Twitter module slaat niet alleen de tweets van een subject op, maar bijvoorbeeld ook:
Quotes: De tweet van het subject en de gequote tweet worden elk onafhankelijk van elkaar opgeslagen maar wel als aan elkaar verbonden gekenmerkt.
Retweets: De tweet van het subject en de geretweete tweet worden elk onafhankelijk van elkaar opgeslagen maar net als bij quotes wel gekenmerkt als aan elkaar verbonden.
Retweets van gequote tweets: Hier worden in het totaal drie tweets onafhankelijk van elkaar opgeslagen en wederom gekenmerkt als verbonden.
Threads opslaan (conversaties)
Als een tweet een antwoord is op een andere tweet, wordt de hele thread opgeslagen. Zo wordt alle mogelijk relevante data verzameld.
Media opslaan
Twitter heeft de mogelijkheid om afbeeldingen en video's te plaatsen. In de nieuwe Twitter module van SNH worden nu ook geïntegreerde afbeeldingen of video's opgeslagen.
Back-up van volgers en volgend
Na de update is het mogelijk om een back-up te maken van volgers en degene die een subject volgt om zo het netwerk van dit subject goed in beeld te kunnen brengen.
Analytics module
Ook bij de Analytics module van Social Network Harvester zijn veranderingen doorgevoerd in de nieuwe versie. Zo is het nu mogelijk om chatgesprekken van Twitter en Telegram met de Analytics module op te nemen in uw analyses en visualisaties. Vervolgens kunt u deze resultaten exporteren naar uw analytics rapport.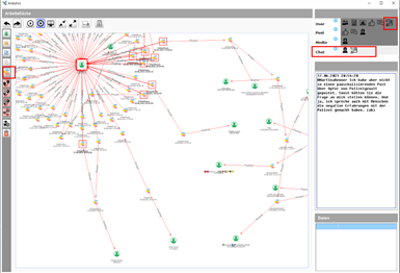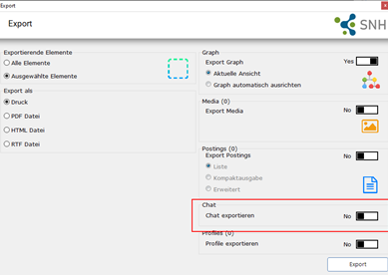 Benieuwd naar de nieuwe versie van Social Network Harvester?
Vraag bij ons een proefversie aan! Uiteraard kunt u ook voor andere vragen of een demo van de software bij ons terecht.