Grote update van Voyager - dé darknet zoek- & analyse oplossing
Eind januari heeft onze partner Web-IQ een grote update uitgevoerd van Voyager. De nieuwe update brengt geavanceerde 'Workspace' functionaliteiten, een nieuw menu en nieuwe headers voor betere navigatie met zich mee. Voyager is een platform dat het doorzoeken en analyseren van het darknet mogelijk maakt. De data input komt vanuit Web IQ's eigen Dark cloud, een database met scraped darknet(market) pagina's die actueel zijn, maar gebruikers ook tot 2015 terug in de tijd kan laten kijken. Hieronder bespreken we de highlights van de nieuwe release.
Verbeterde navigatie
In de nieuwe versie van Voyager is de connectie tussen 'Modules' en 'Workspaces' duidelijker geworden. Ook de navigatie tussen twee verschillende modules en workspaces is sneller en eenvoudiger. De header toont altijd de module die op dat moment in gebruik is en de daarbij behorende workspaces. Via het nieuwe menu kunt u switchen tussen de workspaces zonder eerst te hoeven navigeren naar de correcte module of naar de 'Team Overview Page'.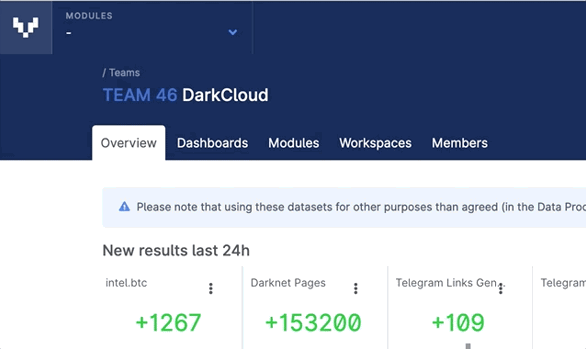 Door op het 'V' logo te klikken helemaal links in het scherm, gaat u terug naar de team overview page. Klikt u op de workspace titel dan wordt u direct naar de workspace details geleid.

Bekijk een workspace of meldt u aan voor een zoekopdracht
Naast de knop 'Search', vindt u de nieuwe knop 'Watch'. Deze geeft u de optie om de activiteiten in een workspace te bekijken. Een activiteit omvat bijvoorbeeld het wijzigen van entiteit selecties door uzelf of een teamlid.
Zodra u een workspace gaat monitoren, ontvangt u dagelijks een e-mail digest van de wijzigingen en wordt deze opgenomen in de nieuwe workspace activiteitentijdlijn op de team overview page.

Elke keer wanneer u inlogt in Voyager, ziet u onder 'Latest Workspace Activity' in één oogopslag alle teamactiviteiten in de workspaces die u volgt: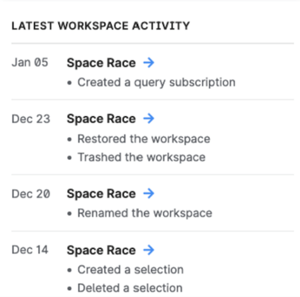 Het oog icoon in het workspace overzicht laat u zien welke workspaces u volgt/bekijkt:

Onder de watch knop is het ook mogelijk notificaties in te schakelen voor zoekopdrachten. Wanneer er een nieuw zoekresultaat is voor die zoekopdracht, ontvangt u bijna direct een notificatie via e-mail.
Vijf nieuwe Darknet Markets toegevoegd aan de Darknet Specials dataset
De 'Darknet Specials dataset' bevat nu advertenties en andere informatie van vijf extra cryptomarkten: "de nieuwe" Alphabay, Archetyp, Ares, Hermes en WeTheNorth.
De dataset bevat vooraf geconfigureerde knoppen voor vroegere en huidige markten. Deze zijn bijgewerkt en geven ook (verrassend veel) recente sluitingen van markten weer.
Neem contact met ons op
Wilt u meer informatie over Voyager of meteen een demo inplannen voor de software? Neem dan contact met ons op.