OSINT Technical training
Registered OSINT Technical Specialist ®
Door gebruik te maken van online gegevensvergaring (OGG), waaronder Open Source Intelligence en/of internet rechercheren, is het mogelijk om tijdens fraude-, cybercrime- en/of opsporingsonderzoeken relevante gegevens te vinden uit digitale open bronnen.
Tijdens de vervolgtraining "OSINT Technical" leren de deelnemers de 'technische' vaardigheden die benodigd zijn om een diepgaand onderzoek op het internet uit te voeren door gebruik te maken van Linux, scrapen en andere hulpmiddelen. Na het volgen van deze training kunnen de deelnemers een deels geautomatiseerd onderzoek uitvoeren op het internet met behulp van tools, virtual machines en Python.
Deze training is een geaccrediteerde SPEN-registeropleiding. Indien u een eindtoets aflegt en succesvol afrondt, ontvangt u een diploma van de Stichting Permanente Educatie Nederland (SPEN) en mag u de titel 'Registered OSINT Technical Specialist ®' (afgekort ROTS) voeren. Dit houdt tevens in dat u wordt ingeschreven in het Abituriëntenregister van het Centrum voor Post Initieel Onderwijs Nederland (CPION) en Persoonlijke Educatie (PE) punten ontvangt. Daarnaast is de training bij het NIVRE geregistreerd waardoor er na het volgen van deze training 6 PE punten kunnen worden behaald. De eindtoets wordt buiten de lesuren afgenomen en kan vanuit huis of een andere gewenste locatie worden gemaakt. 
Voor wie is deze training bedoeld?
Deze driedaagse training is geschikt voor eenieder die het internet gebruikt bij (opsporings)onderzoeken, waaronder politie en overige opsporings- en veiligheidsdiensten, themaonderzoekers, analisten bij banken (CDD, KYC, AML), particulier onderzoekers en meer.
Wij adviseren de deelnemers om eerst de training OSINT Basis en OSINT Advanced succesvol af te ronden voordat men deelneemt aan deze training.
Wat leert u tijdens de training?
Aan het einde van deze training heeft de deelnemer inzicht in de mogelijkheden van diepgaander (technisch) onderzoek op het internet. De deelnemer heeft inzicht in poorten en protocollen en weet effectief gebruik te maken van de Linux Command Line. Ook kan de deelnemer Python scripts en scrapers inzetten om geautomatiseerd onderzoeken uit te voeren met behulp van onder andere API's.
OSINT badge
Wanneer u een OSINT opleiding bij DataExpert heeft afgerond, ontvangt u naast een diploma of certificaat ook een digitale badge. Deze badge is eenvoudig te integreren op sociale media zoals LinkedIn en is door de aanwezige metadata aan uw profiel gekoppeld.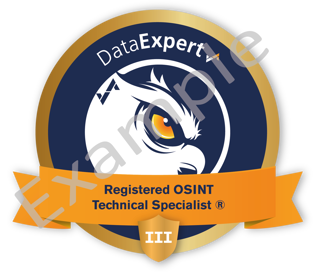 Overige informatie
Deze training is onderdeel van de leerlijn OSINT Compleet waartoe ook de trainingen OSINT Basis en Advanced behoren. De training kan in het Nederlands of Engels worden verzorgd. Verder is de training modulair opgebouwd, waardoor het ook mogelijk is om een maatwerk training samen te stellen met bijpassende casuïstiek.