i2 iBase Designer training
Met i2 iBase Designer ontwerpt u relationele databases waarin alle gegevens kunnen worden ingevoerd die relevant zijn voor uw onderzoek. Tijdens deze vierdaagse training leert u hoe u in i2 iBase databases kunt ontwerpen die aansluiten bij de behoeften van analisten. Hiermee beantwoordt u vragen als 'Ontwerp een relationele database, waarmee u de transacties van een groep personen kunt onderzoeken op bijzonderheden'. 

De voorbeelden en vraagstukken komen uit uiteenlopende werkvelden met diverse soorten en vormen van data, waaronder financiële gegevens, telecomgegevens, ICT-gegevens, forensische gegevens en persoonsgegevens. 
De training bestaat uit een training van drie dagen en een refresherdag een aantal weken later. Op deze manier kunt u een praktijkvraagstuk inbrengen en meer tips en tricks aanleren die aansluiten bij uw dagelijkse werkzaamheden.

Voor wie is deze training bedoeld?
De training is bedoeld voor database ontwerpers en analisten die zich bezig (gaan) houden met het ontwerpen, maken (en beheren) van een relationele database. In de praktijk wordt i2 iBase Designer (meestal in combinatie met i2 Analyst's Notebook) vooral gebruikt door analisten van de politie, defensie, grote particuliere- of overheidsorganisaties, banken, non-profits en verzekeringsmaatschappijen. 

Wat leert u tijdens de training?
Uitdenken van een relationeel datamodel  
Ontwerpen van een i2 iBase database, met daarbij meerdere mogelijkheden voor Security en Audit Levels
Creëren van de i2 iBase database op basis van dit ontwerp
Entiteiten en koppelingen aanmaken met bijbehorende semantische betekenissen
Verschillende typen velden aanmaken, waaronder rekenvelden, discriminator velden, index velden en standaardvelden
Bijlagen, gradaties van zekerheid aan velden toevoegen
Word search en search 360 indexeren
Labeling schema's en Schema-attributen aanmaken
Datasheets ontwerpen waardoor de invoer efficiënter en minder foutgevoelig wordt
Records importeren uit gestructureerde data formats.
Bouwen, schedulen en opslaan voor hergebruik van deze importspecificaties
Een template maken van een database
Een database repareren, comprimeren, beheren en controleren
Een database beheren en beveiligen     
Let op!
Deze training is gewijzigd en gaat nu alleen in op het ontwerpen van databases en niet op het gebruik. i2 iBase User kennis wordt als voorkennis verwacht voor deelname aan deze training.
Analytics badge
Wanneer u deze Analytics opleiding bij DataExpert heeft afgerond, ontvangt u naast een diploma of certificaat ook een digitale badge. Deze badge is eenvoudig te integreren op sociale media zoals LinkedIn en is door de aanwezige metadata aan uw profiel gekoppeld.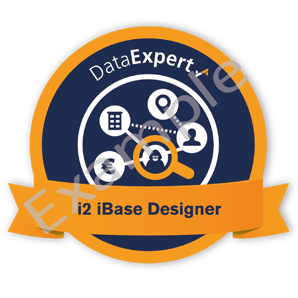 Extra informatie
Werkt u met versie 8 en heeft u de overstap naar versie 9 nog niet gemaakt? Op aanvraag is het mogelijk de i2 iBase Designer training versie 8 te volgen. Het is tevens mogelijk om een op maat gemaakte i2 iBase Designer training te volgen.