Cybercrime Advanced training
De strijd tegen cybercrime vraagt om een gecoördineerde aanpak binnen de opsporing. Tijdens de training Cybercrime Advanced gaan we dieper in op de internet- en computertechniek om kansen binnen een (cyber) onderzoek nog beter te benutten. Waar eenieder binnen de opsporing vroeg of laat in aanraking komt met cybercrime of gedigitaliseerde criminaliteit, zijn er natuurlijk ook de onderzoekers en specialisten die hier dagelijks onderzoek naar doen. De Cybercrime Advanced training biedt deze onderzoekers en specialisten een verbreding van de kennis, competenties en tools om de onderzoeken (nog) efficiënter uit te voeren.
Voor wie is deze training bedoeld?
De training is bedoeld voor eenieder in de opsporing die zich actief bezighoudt met het onderzoeken van cybercrime of gedigitaliseerde criminaliteit. Dit zijn rechercheurs met als taakaccent cybercrime, teamleiders die cybercrime specialisten aansturen en rechercheurs met de intentie om als vraagbaak omtrent cybercrime te fungeren binnen een rechercheteam. Het is wenselijk dat deelnemers aan deze training eerst de training Cybercrime Basic succesvol hebben afgerond.
Wat leert u tijdens de training?
Na het volgen van de training zijn de cursisten in staat cybercrime onderzoeken uit te voeren naar veiliggestelde data en te adviseren in cybercrime onderzoeken. Hierbij wordt er onder andere aandacht besteed aan de volgende onderwerpen:
De actuele trends en ontwikkelingen in cybercrime.
De nationale/Europese bevoegdheden en juridische kaders omtrent cybercrime.
Het onderzoeken van de front-end van bijvoorbeeld een phishing website of webwinkel.
Het onderzoeken van complexe mailheaders en DNS-records.
Het uitlezen, onderzoeken en interpreteren van data van veiliggestelde gegevensdragers.
Het uitvoeren van basisonderzoek op het darknet.
Het onderzoeken en in kaart brengen van IoT en connected devices.
Cybercrime badge
Wanneer u een Cybercrime opleiding bij DataExpert heeft afgerond, ontvangt u naast een certificaat ook een digitale badge. Deze badge is eenvoudig te integreren op sociale media zoals LinkedIn en is door de aanwezige metadata aan uw profiel gekoppeld.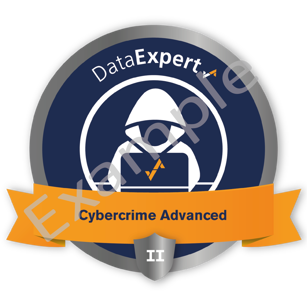 Deze training is onderdeel van de leerlijn Cybercrime & Teams waartoe ook de trainingen Cybercrime Basic en Professional behoren. De training wordt ondersteund door het e-learning platform van DataExpert. Hier kunnen deelnemers kennisnemen van de theorie door middel van tekst en korte video's. De training wordt in het Nederlands verzorgd en kan zowel klassikaal als online plaatsvinden.