i2 Tips & Tricks: De Field Calculator functionaliteit in i2 iBase
In dit Tips en Tricks artikel gaan we nader in op de Field Calculator functionaliteit van i2 iBase. Met deze functionaliteit krijgt u snel en op één plek inzichtelijk wanneer transacties hebben plaatsgevonden en hoe hoog de bedragen waren.
Stel u doet een onderzoek naar een witwaspraktijk. Importorganisatie Zuid-West Import en transportbedrijf Truck Leon SA lijken erbij betrokken te zijn. In dergelijke situatie is het relevant om in kaart te brengen of er een geldstroom heeft plaatsgevonden tussen beide organisaties. Om dit in beeld te brengen kunt u uw i2 iBase database bevragen. Door middel van een query kunt u nagaan of en hoeveel transacties er plaats hebben gevonden tussen beide bedrijven.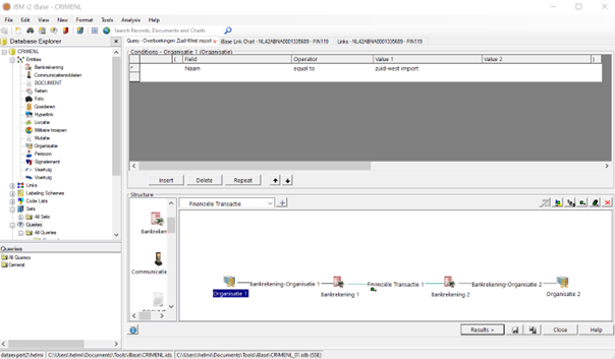 Het resultaat geeft weer dat er meerdere transacties tussen de bedrijven plaats hebben gevonden. Enkel de transactielinken worden als resultaat weergegeven doordat er in de query voor is gekozen om de output enkel op de transactielink te selecteren. De overige informatie omtrent de bedrijven of de bankrekeningnummers is in dit voorbeeld niet van belang.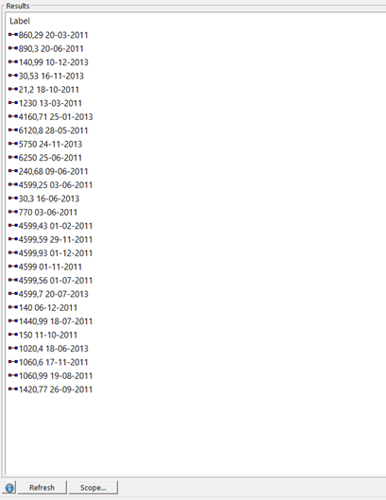 Nu kan het in het onderzoek van toegevoegde waarde zijn om na te gaan wanneer de eerste en wanneer de laatste transacties waren. Ook het laagste/hoogste/totaalbedrag van de overboeking kan extra inzichten geven voor uw onderzoek. Om snel en op één plek deze gegevens inzichtelijk te krijgen, kunt u gebruikmaken van de 'Field Calculator' functionaliteit.
Deze functionaliteit vindt u door naar de 'Analysis' tab te gaan en de 'Field Calculator' optie te selecteren. Vervolgens opent er een nieuw tabblad in i2 iBase met onderstaande scherm.

De functionaliteit is toe te passen op basis van alle records in de database, een opgeslagen query of een opgeslagen set. De entiteit of het linktype zal overeen moeten komen met hetgeen dat als resultaat uit de query komt of is opgeslagen in de set die u wilt gebruiken.
Doordat er in de resultaten van de query datum/tijd en informatie over bedragen zijn opgenomen, heeft u de mogelijkheid om bij het gebruik van de 'Field Calculator' de volgende gegevens op te vragen:
Op basis van datum:
Earliest – de eerste datum of tijd
Latest – de laatste datum of tijd
Op basis van bedrag:
Lowest – de laagste waarde
Highest – de hoogste waarde
Average – de gemiddelde waarde
Sum Of – de totale waarde
Standard Deviation – de standaard afwijking
In het zwarte veld op bovenstaande afbeelding kunt u de berekende gegevens, op basis van de query, terugvinden.
U kunt de resultaten van de 'Field Calculator' eenvoudig kopiëren naar uw rapport door middel van de 'Kopieer naar Klembord' optie aan de rechterzijde.
Meer informatie over de mogelijkheden van i2 iBase? Volg dan zeker één van onze i2 iBase trainingen. Klik hier voor meer informatie over deze trainingen.