Basisopleiding Internet Rechercheren
In de huidige samenleving bevinden meer en meer mensen zich op het internet. De data die men achterlaat op het internet kan van groot belang zijn in een (opsporings)onderzoek. Zo worden er vuurwapens en andere verboden zaken via platformen zoals Facebook en Instagram aangeboden. In de Basisopleiding Internet Rechercheren leren rechercheurs hoe ze internetonderzoek zo goed mogelijk kunnen uitvoeren met behulp van (maar ook zonder) het IRN (Internet Recherche Netwerk).
Voor wie is deze training bedoeld?
Deze driedaagse training is geschikt voor eenieder die IRN gebruikt bij (opsporings)onderzoeken op het internet.
Wat leert u tijdens de training?
Aan het einde van deze training heeft de deelnemer inzicht in de mogelijkheden van het internet en digitalisering in de opsporingswereld. De deelnemer heeft geleerd effectief gebruik te maken van zoekmachines en -technieken. Ook anonimiteit en het vorderen van gegevens worden besproken, alsmede hoe de deelnemer zelf voorkomt om slachtoffer te worden van cybercrime.
OSINT badge
Wanneer u een OSINT opleiding bij DataExpert heeft afgerond, ontvangt u naast een diploma of certificaat ook een digitale badge. Deze badge is eenvoudig te integreren op sociale media zoals LinkedIn en is door de aanwezige metadata aan uw profiel gekoppeld.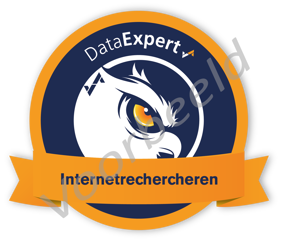 Overige informatie
De training kan in het Nederlands of Engels worden verzorgd; zowel klassikaal als online. Verder is de training modulair opgebouwd, waardoor het ook mogelijk is om een maatwerk training samen te stellen met bijpassende casuïstiek.