Zorg dat u IBM i2 compliant bent met de PAM service
Onze leveranciers verlangen dat het gebruik van hun software volgens de regels verloopt. IBM bijvoorbeeld, wil dat het aantal gelijktijdige gebruikers van de i2 software het aantal softwarelicenties niet overschrijdt en dat is niet verwonderlijk. U bent als gebruiker van de software zelf verantwoordelijk voor de compliancy van de licenties. Makkelijk gezegd, maar hoe doet u dat? De oplossing: PAM.
Product Access Management
Product Access Management helpt u ervoor te zorgen dat uw organisatie blijft voldoen aan uw licentieovereenkomst met DataExpert en IBM. Om de toegang tot uw i2 oplossingen te beheren, wordt er gebruikgemaakt van een server-client model. Het in gebruik nemen van de PAM service omvat het maken, implementeren en beheren van de toelatingen.
Elke server bevat een aantal permits die worden uitgegeven aan gebruikers met toegang op basis van wie het eerst komt, wie het eerst maalt. Bovendien heeft elke permit betrekking op een specifieke IBM i2-applicatie, zoals bijvoorbeeld Analyst's Notebook.
In onderstaande afbeelding ziet u een voorbeeld van de PAM service. Links kunt u de applicaties zien waarvoor de PAM geldt (bijvoorbeeld Analyst's Notebook) en rechts het aantal licenties in het totaal en degene die in gebruik zijn.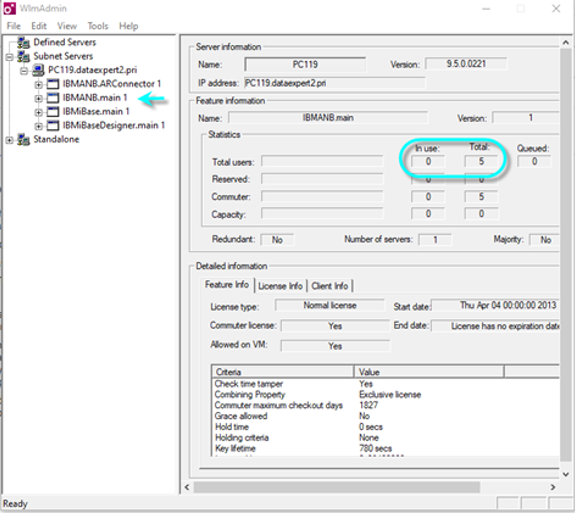 Installatie PAM
Wilt u gebruikmaken van bovengenoemde kosteloze Product Access Management service? Neem dan contact op met onze supportafdeling. Zij helpen graag bij het aanvragen en installeren van de PAM service. Doordat u als i2 softwaregebruiker bij DataExpert beschikt over een DataExpert Basis, Advanced of Premium supportpakket, zijn er geen kosten verbonden aan deze ondersteuning. U kunt onze supportafdeling bereiken door te bellen naar +31 (0) 318 543173 of door een mail te sturen naar support@dataexpert.nl.