US Military Combat Command zet Rosoka Text Analytics in
Het slim aggregeren en analyseren van data uit communicatie en informatiesystemen is essentieel voor het efficiënt inzetten van militair vermogen. In onderstaande use case wordt omschreven hoe de United States Military Combat Command de Rosoka Text Analytics oplossing heeft ingezet voor het verkrijgen van bruikbare intelligence uit grote hoeveelheden ongestructureerde data.  
De United States Military Combat Command krijgt dagelijks te maken met een zeer groot volume aan data waarin mogelijk interessante en bruikbare informatie zich schuilhoudt. Ze staan voor de grote uitdaging om uit deze honderdduizenden gegevensbestanden in een zo kort mogelijke tijd de juiste informatie te halen.
Om kostbare tijd te besparen en waardevolle informatie niet te missen, heeft de organisatie als onderdeel van hun Informatie Gestuurd Optreden (IGO) strategie, het Rosoka Text Analytics intelligence systeem ingericht. Het systeem is ontwikkeld en getraind door middel van Machine Learning voor entiteit en link extractie. Hierbij wordt semantisch datamanagement gebruikt om in de keten dezelfde taal te spreken. Onder het ruime begrip 'entiteiten' valt onder meer: namen van personen, geo-locaties, organisatie- en programmanamen, wapens, drugs, ziektes, chemische middelen, e-mailadressen, social media accounts, telefoonnummers en andere indicatoren die als interessant worden beschouwd.

De informatie in de vorm van ongestructureerde data, die near-real time of offline binnenkomt, wordt door middel van 'processing pipelines' aan de Rosoka engine aangeboden. Deze informatie kan door de analist direct in i2 Analyst's Notebook verwerkt en geanalyseerd worden.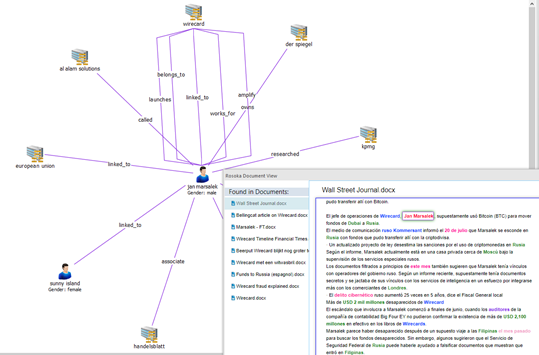 De nieuw verkregen inzichten kunnen geo-data bevatten en kunnen verder met bestaande Geo Intel gecombineerd worden om de gegevens in hun ruimtelijke context te analyseren.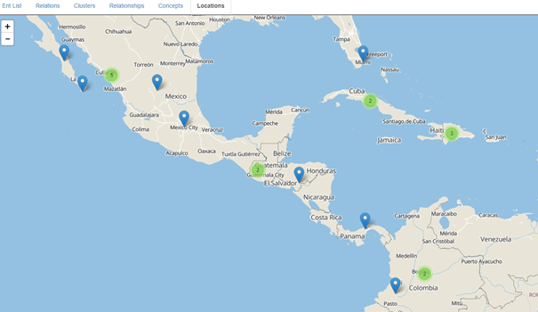 Vervolgens kunnen entiteiten met behulp van Rosoka in verschillende talen aan elkaar worden gelinkt en waardevolle relaties tussen entiteiten inzichtelijk worden gemaakt.
Met behulp van Rosoka en IBM i2 oplossingen is het mogelijk om de grote hoeveelheden informatie waar de United States Military Combat Command mee te maken krijgt, in een zeer korte tijd in bruikbare intelligentie om te zetten. Denk hierbij aan risico's tijdens een missie in kaart brengen of een relevant Situational Awareness (SA) beeld creëren voorafgaand aan een missie.  
De Rosoka Text Analytics oplossing voldoet tevens aan alle eisen die door dergelijke militaire instanties gesteld worden. Zo voldoet de oplossing aan alle technische en data beveiligingseisen om in deze geclassificeerde omgeving/netwerk, maar ook in beveiligde cloud omgevingen, te mogen draaien.
Bent u benieuwd hoe Rosoka uw visualisaties en analyses kan verrijken? Neem dan contact met ons op.