i2 Analyst's Notebook Professional versie 9 training
Tijdens deze vierdaagse training leert u hoe u i2 Analyst's Notebook als hulpmiddel kunt gebruiken bij het oplossen van grotere vraagstukken zoals 'Zoek uit of er een verband bestaat tussen een reeks inbraken en een reeks telefoongesprekken'. De voorbeelden en vraagstukken komen uit de politiepraktijk (autodiefstal, mensenhandel, drugstransporten, moord en beroving) en uit de financiële sector (financiële fraude, identiteitsfraude, skimming, vervalsing, witwaspraktijken).

Voor wie is deze training bedoeld?
Voor alle onderzoekers en analisten die veelzijdige onderzoeksgegevens om moeten kunnen zetten in i2 Analyst's Notebook schema's om deze vervolgens diepgaand te analyseren. 
 
Wat leert u tijdens de training?
Het opbouwen van schema's, handmatig en door middel van importeren. Het hierbij uitdenken van meerdere datamodellen en dus weergeven van dezelfde data op meerdere manieren.
Lay-out mogelijkheden toepassen op schema's zoals bijvoorbeeld de Peacock lay-out, Grouped by Time lay-out en Minimize Crossed Links lay-out.
Verschillende zoekmogelijkheden gebruiken, zoals Visual Search, List Items en de Search Functie.
Analyseren van complexe schema's met behulp van Filters en Histogrammen. De HeatMatrix Analysis en Dynamic Filtering zijn krachtige manieren om meer inzicht te krijgen in uw data.
Zoeken naar dubbele entiteiten met Smart Matching.
Met Social Network Analysis de belangrijkste spelers herkennen in een complex schema.
Geografische gegevens laten zien op een kaart in Google Earth.
Conditional Formatting (voorwaardelijke opmaak) toepassen, om belangrijke informatie in de juiste context te zien en om relevante informatie automatisch te laten opvallen.
Importeren van grote hoeveelheden gegevens zoals telefoongesprekken en financiële transacties uit Excel en tekstbestanden.
Analytics badge
Wanneer u deze Analytics opleiding bij DataExpert heeft afgerond, ontvangt u naast een diploma of certificaat ook een digitale badge. Deze badge is eenvoudig te integreren op sociale media zoals LinkedIn en is door de aanwezige metadata aan uw profiel gekoppeld.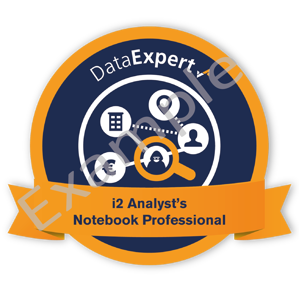 Extra informatie
Werkt u met versie 8 en heeft u de overstap naar versie 9 nog niet gemaakt? Op aanvraag is het mogelijk de i2 Analyst's Notebook training in versie 8 te volgen. Het is tevens mogelijk om een op maat gemaakte i2 Analyst's Notebook training te volgen.